Grounds & Waterways
Mace River Ranch Waterways and Riverfront Nature Park
Mace River Ranch HOA owns and is responsible for acres of nature preserve adjoining the North Channel of the Boise River. The area has been designated as a floodway, meaning that no structures can be built on it. The area includes creeks, green spaces, trails, and a large recreational pond. It runs parallel to the North Channel of the Boise river. The Boise Greenbelt runs along it's norther border. The nature preserve provides opportunities for viewing wildlife, fishing, paddleboarding, walking and biking. The access to the greenbelt and the Boise River allows homeowners to enjoy Eagle's most amazing attractions.
Because of the acres of ponds and proximity to the river, Mace River Ranch HOA values the protection and improvement of its waterways and its landscape. We work with experts in the field and have a resident lake consultant who has guided our waterways management strategy.
Pond health is a significant value for our community, and we have (and continue to build) an amazing private fishery. Bass, Sunfish, and Trout are caught in our ponds, which are all catch and release and only for homeowner use. We have a very active fishing group that does projects to improve the fishery.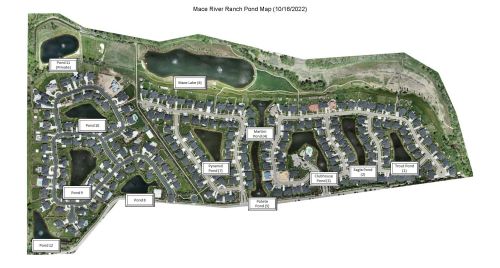 For a map of our ponds, click here.
Our contractors are trained in safe treatment of the ponds, and we do regular testing to understand what is required for each pond. Our Waterways Committee sets the strategy for our ponds, taking into consideration the health of our fish, wildlife, crustaceans, and plant life.
Homeowners get to utilize irrigation water from our waterways to water lawns and landscape.
Our homeowners should be aware of their actions and how they impact our ponds and help in the following ways:
DRAINAGE INTO THE PONDS: The street drains in Mace River Ranch drain into our ponds. Residents need to be cautious with anything that could end up in the street drains. In addition, fertilizer and other lawn treatments can also end up in the ponds with applications that are too close to the ponds or find themselves in run off to the ponds (overwatering, rain, etc)
FERTILIZER & TREATMENTS: Residents are not to fertilize any of the common area grasses or trees without permission from the Landscape Committee or Waterways Committee. Residents are not permitted to treat waterfalls or ponds.
DO NOT FEED WATERFOWL: Avoid feeding ducks, geese, and swans. Not only does this spread disease among the waterfowl, but it causes phosphates to build in the ponds, requiring extensive and expensive treatment to maintain healthy ponds.
LITTER: Avoid littering and pick up litter when possible.
POOLS: Please do not empty any chlorinated water (from spas or swimming pools) into any gutter or on common area. All of our culverts drain into our ponds. In addition, this often causes ice on sidewalks which is a liability for the HOA.
VEHICLE MAINTENANCE: Take care in washing cars to avoid spillage of detergent and oils that end up as a sheen of oils and soaps on the water of our ponds.
FISHING: Please enjoy fishing in Mace River Ranch.

Fishing is for residents and their families only; guests are allowed only with the resident present.
Catch-and-release techniques should be used on our ponds.
Barb-less hooks, artificial lures and flies are to be used exclusively.
Take pictures and send them to our fishing group! We want to know how our fish are doing. (Please educate yourself on safe handling of fish)
Permitted use
Watercraft of any kind (only non-motorized) and swimming are only permitted on Mace Lake (Pond 6 – the largest pond).
All fishing is catch and release only.
All borders surrounding all ponds in Mace are considered common areas and are accessible to all residents of Mace River Ranch.
Use by non-members is considered trespassing.
Irrigation
Irrigation in Mace River Ranch is provided via an intricate delivery system from the Boise River into Pond 1 (Trout Lake). From there the water flows through the system and into Pond 6 (Mace Lake) from which irritation pumps pull water to be delivered to all common areas and private homes. Fees are assessed each year based on the prior year's expenses to maintain the irrigation system. Irrigation water is typically turned on mid-April and off in mid October.
Ponds 1-7 are fed via the river water delivery system. Ponds 8-12 are ground water ponds.
Common Area Management
Tree/Shrub Planting and Removal
Pond and Pond Equipment Management
Common areas are exclusively managed by the Mace River Ranch BOD and committees. There is no requirement that the Board be granted permission or give notice to remove, replace, prune or treat common areas or a common area trees or shrubs. This applies also to pond management, including fountains, aerators, compressors, etc. If previous homeowners have planted in common areas, the homeowner is responsible to maintain those plants. The Board has the right to remove any trees/plants as they deem necessary, even if planted by the homeowner, in common areas.
Notice: We do want owners to be informed and will do our best to communicate to our community regarding major tree removal, treatment and/or pruning projects. If you see significant activity in a common area near you and are curious as to what is happening, please check with our property management company.